Skip to product information
Wild roses, "thank you" notecard. Folded note cards. Letterpress printed. Size: 3.5 x 5 inches. 6 cards and envelopes packaged in a clear box.
Regular price
Sale price
$21.00 USD
Unit price
per
Sale
Sold out
Flower Substitution Policy

We use the most fresh, seasonal flowers to create each bunch, therefore there is no standard ENFS by Foliage arrangement.  Flowers will vary to the image due to their availability. Flowers we substitute will be of equal or greater value. Since Mother Nature is our ultimate decision maker on what is available to us, we don't offer replacement bouquets due to substitution issues. As all flowers are not always in season, or not in stock, we reserve the right to substitute blooms with a similar "look" and feel without prior consultation.

We make every effort to maintain the "look and feel" of the arrangement by considering the overall shape, size, style, and color combinations. If you require a specific product, please call and check for its availability. We do not guarantee specific blooms. 

In single-variety arrangements, the variety will take precedence over color. For instance, if an order is for yellow daisies, they will substitute another color of daisies, not another yellow flower. White roses and cream roses may be substituted for each other as well as peach roses and pink roses. Purple and pink orchids may need to be substituted for white orchids and visa versa. We cannot guarantee specific flower varieties, but make every effort to provide the freshest and most beautiful option available on the day we make your order
Delivery Details

We always do our best to accommodate our customers' delivery needs.  However, we are not always able to guarantee delivery at a specific time of day, especially during busy holiday periods.  To request a specific delivery time, please type it into the Special Delivery Instructions field during checkout. Before major holidays, we strongly recommend that you place your orders several days in advance. 

Our delivery times are generalized to "morning" and "afternoon" deliveries. If you require a timed delivery, please call and speak with our designers to make those arrangements. It is your responsibility, as the sender, to ensure that the recipient will be at the location of the delivery on the date of delivery. If the recipient goes home early (if delivered to a workplace) or is out of town (for home deliveries), unbeknownst to us, it is not cause for refund as we have fulfilled our obligation in delivering upon the date of request as ordered by the sender. We do not redeliver orders, and if there is a specific reason we feel unable to leave it at the delivery address, we will bring it back to our studio, where the recipient can arrange a time with us to pick it up.   
Care Instructions

How should I maintain my flowers?

As flowers are perishable, you must water them, otherwise they will not last long. It is the recipient's responsibility to re-cut and water the arrangement. Upon receipt, cut the stems about 1" with secateurs and put them directly in the water in your vase. Change the water every two days, taking care to cut the stems each time. 
Share
View full details
Need help choosing a size?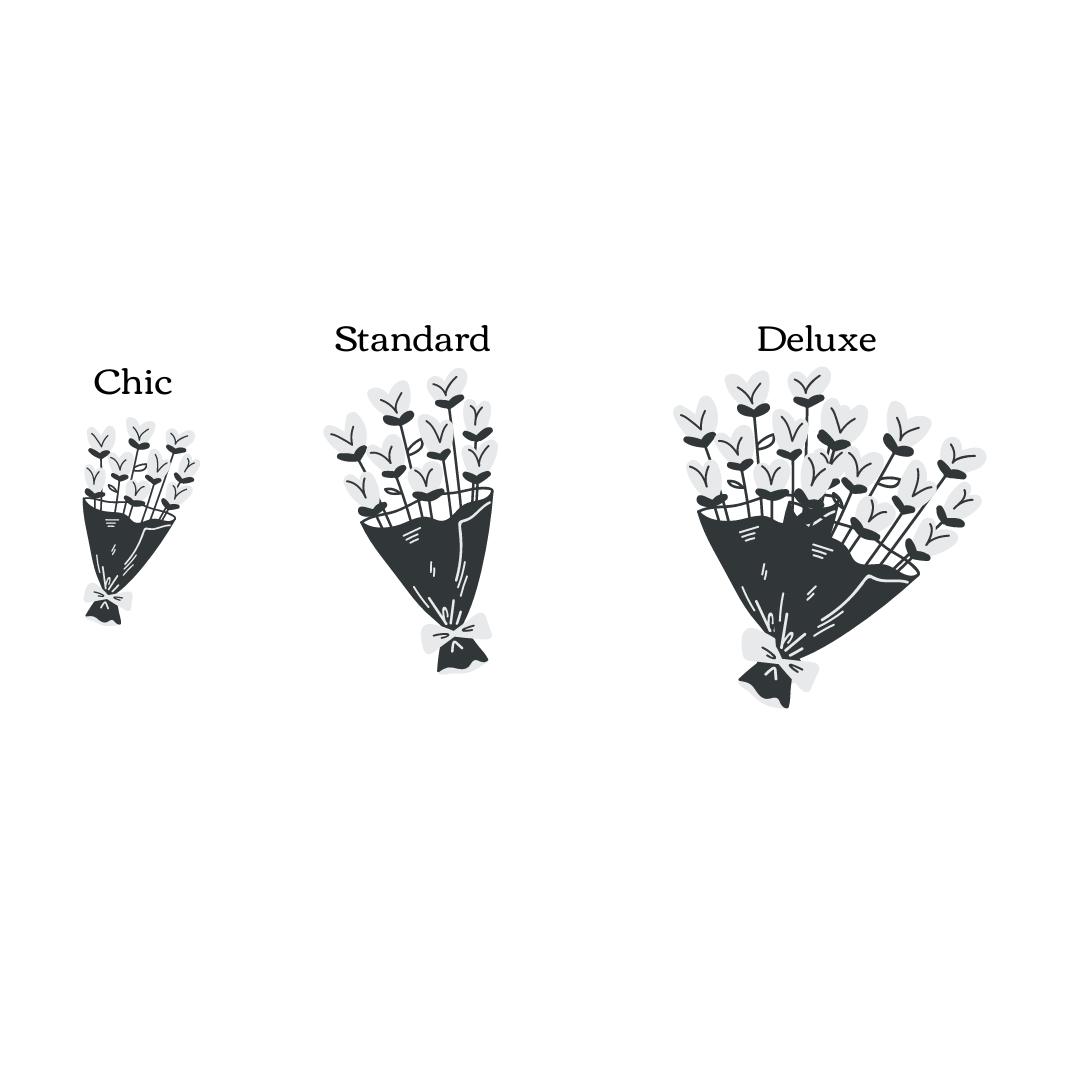 Chic Size Details

Chic: Between 8"-10" in diameter depending on the type and size of the flowers, our Petite ENFS by Foliage bouquets are a delicate and discreet size that allows our florist artisans to express our signature style in a petite sized floral display.
Standard Size Details

Standard: Between 10"-15" in diameter depending on the type and size of the flowers, the Standard ENFS by Foliage bouquets are generous and tell a story: the flowers have the space to respond to each other and offer the spectacle of a rich and magical staging.
Deluxe Size Details

Deluxe: Between 15"- 20" in diameter depending on the type and size of the flowers, the Deluxe bouquets from ENFS by Foliage have a rare and truly impressive size. Grandiose and luxurious, their extraordinary volume leaves room for all declarations.
Questions

We make every effort to ensure that you receive excellent service. If, at any time, you experience problems with an order or have questions regarding these policies, please contact us by calling (615)419-2661 or emailing customersupport@eastnashvilleflowershop.com .

Our Flower Promise

Photos are non-contractual. All sales are final.

As a Nashville Florist, the flowers of our producers vary according to arrivals and seasons in our local area.  The signature of an East Nashville Flower Shop by Foliage bouquet is that no two arrangements are ever the same so each and every bouquet is bespoke and truly unique. The picture shows an example of our bouquet containing seasonal flowers similar in colour, texture and vibrancy.